Will you triumph at the head of the Allied Forces? Or will you unite the world under tyranny, for the glory of the Reich, the japanese Emperor or the idea of a New Rome? Strategy fans and Axis and Allies afficionados could scratch that grand strategy itch with the upcoming Axis and Allies Online, developped and published by Beamdog.
Mainly known for their adaptations of classic role-playing games, namely Baldur's Gate, Neverwinter Nights and Planescape Torment, Beamdog decided to turn its focus towards board games and adapt one of the most iconic wargames franchises.
« Our CEO, Trend Oster, grew up playing Axis and Allies and have many stories about the game, stories that mostly ended with a table flip », explains Cody Ouimet, the game producer, over the phone.
« He has been involved with Wizards of the Coast, and Hasbro, and their subsidiary (renowned wargame maker) Avalon Hill, (…) and while they were kicking off work on Axis and Allies and Zombies, he expressed interest to adapt a version of it. After some contractual talks, he had the license to begin pursuing a digital adaptation of Axis and Allies, specifically 1942 – Second Edition. »
While working on their game, Beamdog needed to take into account the fact that Axis and Allies has been ported to digital platforms a number of times. The 1998 version, published by Hasbro Interactive, fit on one CD, and required a whopping 1 megabyte of video memory, 40 megabytes of disk space and at least 16 megabytes of RAM. Add to that a 28,8 baud modem, and you could play against other players over the internet.
« Obviously, we looked into the previously existing entries in the franchise, from a digital standpoint, so there's the adaptation of 1998, there's also an interesting version from 2003, I think, by Atari… And there's also an open-source version of the game. At the end of the day, we really want to take this into our own direction, adapting the board game and trying to remain as faithful as possible to the rules, while also making it accessible in order for new players to give it a try, without needing to take a long time to read the rules, or « trial and error » their way through the rules », adds Ouimet.
Axis and Allies is indeed a complex game, but the team at Beamdog decided to split the rules into 10 to 15 minutes chunks during the tutorial section. The complete rules will also be there for the purists and for reference purposes, if needed.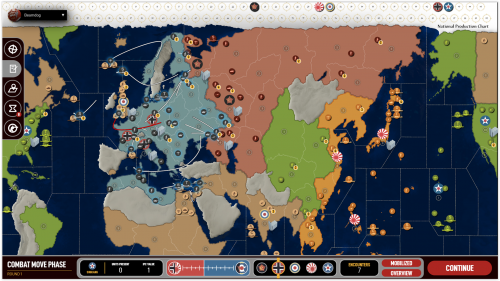 A crowded market
This new adaptation of a board game classic comes at a time where board games, old and new, are more than ever finding a new life as videogames. They were, of course, some precursors, including that 1998 version of Axis and Allies, but with big hits like Ticket to Ride, Settlers of Catan or Scythe, for example, each getting their own digital version, is the Beamdog team seeing this as an opportunity or as competitors?
« Obviously, by the nature of the business, they could be considered competition, but we're making entirely different games. I find the digital resurgence of board games tying into the resurgence of board games in general », adds Cody Ouimet.
« I think there is a lot of new players that play board games and are really enjoying the complexities and nuances that board games are providing. And the interest in board games in the physical world, with friends and everything, has led players to want to have ways to keep playing when their friends are not available. »
« We really felt that Axis and Allies, by its nature of being kind of a competitive game, being miniature-driven compared to other games that focus on deck building, being very visual… It was a unique design challenge for us to approach the game to make it accessible no mater where you are », continues Ouimet, before talking about the asynchronous play mechanic, which will rid certain players of the obligation to stay in front on the computers for long periods of time, in order to finish a game.
Axis and Allies Online will launch in Early Access on Steam for 19,99 USD. « It provides us with a way to communicate with our audience about the features that they want to see », mentions Ouimet.
« Axis and Allies Online is a game that Beamdog is really committed to for the future, with additional features, new content, all sorts of different things. »
Axis and Allies Online
Editor and publisher: Beamdog
Platform: Windows, MacOS and Linux (Steam)
---
Related content: